OK, so my father-in-law hits up the local garage sales each saturday and sometimes comes up with good finds. Yesterday he drove up and knowing that I was looking for a toolbox offered me this.... it's a Craftsman ball-bearing tool box he got for $120 !!! It's not their basic line which is pretty cheap, but the standard ball-bearing version. I paid him, cleaned it and gave it a wax. There's a few scratches but nothing horrible. It's in great condition for being used.
I really love the grip-latch system as we use them at work, so I was hesitant to buy the less expensive ball bearing only version. I've felt a lot of detents that were simply too hard and wasn't interested in them. But I'm pleasantly surprised at how nice these are. Nothing like the harsh Lowe's boxes. Can the detents be removed if you wanted?
Speaking of the sliders, I loved how easy it was to take the drawers out. Little plastic levers on each side. One goes up the other goes down and out it comes.
A little tip for those that didn't know, when you get new box you should give it a wax. I used Meguire's Ultimate Quik wax spray on. The wax does two things. One it provides a small layer of protection. This is useful to prevent those waffle drawer liner marks since the paint is laquer and they leave marks. Second it provides lubrication so when you wipe it down later the rag glides smoothly. Both prevent scratches and keep it looking good. The one thing about spray wax is that you must wipe it dry. Use a small rag, spray the surface or the rag, wipe it around, then a larger microfiber for drying. Their Ultimate Detailer is also very good and easier to use.
One thing I noticed is the aluminum drawer pull covers are mostly wider than the drawer. There are some scratches from when the drawer moves right/left and it hits the side of the box. So I'm going to trim a few down with my dremel.
Speaking of play in the drawer slides, I noticed they are just snapped in place. Many are loose. But there are holes and it looks like one could install some screws in them to keep them from moving around. I think it might make the whole box seem stronger. Anyone ever do this?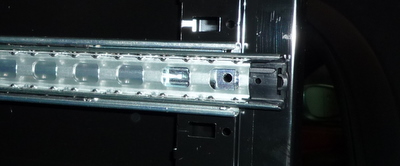 Overall I'm very happy with the box. I also like the shorter height as I can look down into the top. And the price is right. Now if only I could find a brand new vintage craftsman grinder......