When the last of the little ones left the nest I decided it was time to downsize the house and upsize my garages. I purchased a country home in the center of 6 acres of trees in June 2004. It took months of red tape and didn't start digging until the first of November. I pulled all the permits, purchased all the materials, subcontracted out parts of the construction and tackled a good part of it myself with the help of several friends over the past 12 months.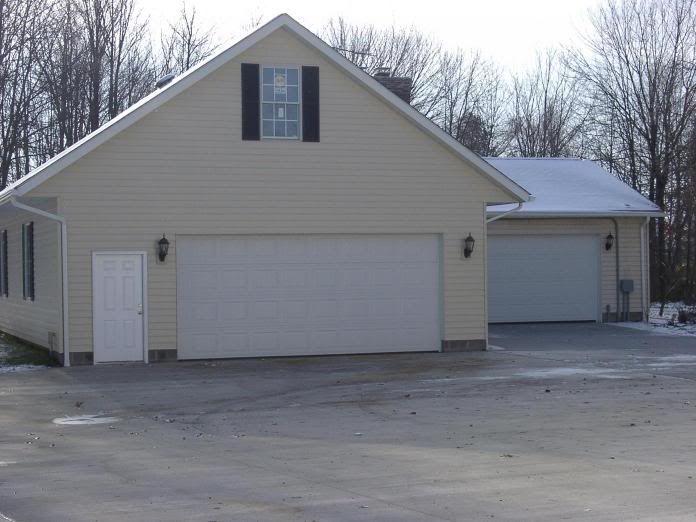 I added a 30x50' garage attached to the existing 26x30' side entrance garage. It has 12' ceiling height one 18x8 2" thick (14.8 R Value) Wayne Dalton garage door with 3' high lift and a LiftMaster jackshaft opener. All the walls and ceilings have 5/8' fire rated drywall. The walls have R-19 and the ceiling has R30 insulation. I installed an Amstrong Thru-the-Wall combination ducted forced air gas furnace and electric air conditioner with 64,000 Btu heating and 29,000 Btu cooling.
I added a 36" man door to the existing side entrance garage and increase the door to 8x18'. The old 7x16 door just wasn't wide enough for two large SUV's.
There are a total of 15 double 8-foot fluorescent light fixtures. The center three are controlled by a four-way switch located at each door. Three switches at the front door control 6 lights, while three switches at the rear door control 6 lights.
There are two 50' long 1" main airline runs with ½" drops along the walls, one with a reel. All 5 of the garages have underground connections to two central 5-HP air compressors with coalescing filters and a refrigerant dryer located in the pole barn.
It took 45 gallons of Sherman William's epoxy coating for this addition and my two other unattached garages (3,500 square feet total). I just finished that last week and was an experience in itself. I'll get to that in the flooring section once I resolve some issues with Sherman Williams.
A 42" steel door opens to 48" wide steps that will take you to the 16x50' by 7' tall storage area.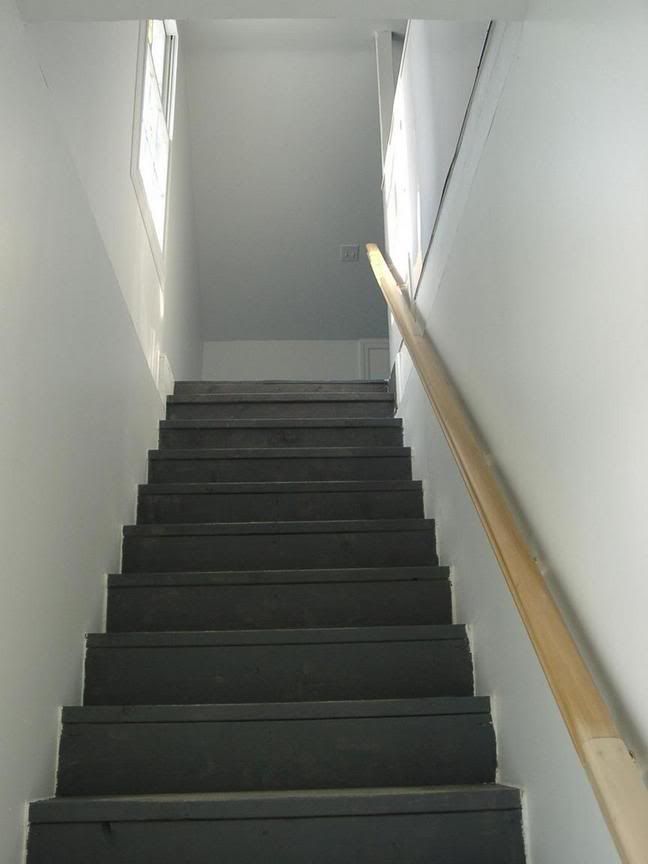 I was going to leave it unfinished. But decided it wouldn't take too much effort to add 6" insulation and 5/8 drywall to the 8" ceiling rafters and 48" high knee walls. Four eight foot double tube fluorescent light the area. No heat,, not yet at least.